Never Miss An Adventure With Your Kitty!
No matter if your going on a long walk or lounging at home, the Kitty Pouch will make your cat feel safe and cosy wherever you are!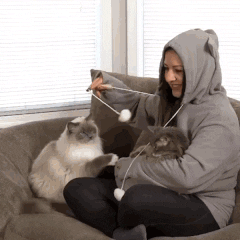 Comfort For You & Your Kitty
The Kittty Pouch is made from breathable cotton and polyester to keep your kitty cool as you go!
Snuggle with your Kitty all day and keep them warm and comfy!
Plenty Of Space For Any Kitty
No matter how big or small your Kitty is, The Kitty Pouch has more than enough space to keep your Kitty safe and cosy.
Simply place them on the pouch, and all of your worries in life will fade away!